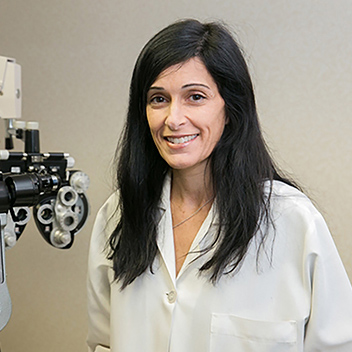 Dr. Gunzburg graduated from the University of Illinois with an undergraduate degree in accounting. She worked in public accounting in her hometown of Chicago before returning to medical school to pursue a lifelong interest in medicine. She attended Northwestern University Medical School before completing her residency at the University of Chicago, where she received the excellence in patient care award. Dr. Gunzburg then moved to St. Louis, Missouri for fellowship training in cornea and refractive surgery. She practiced for four years in St. Louis, where she was named a Top Doctor. Dr. Gunzburg relocated to New Jersey for family reasons and has worked in the area for ten years.
Dr. Gunzburg is an experienced board certified ophthalmologist and eye surgeon, currently specializing in comprehensive ophthalmology, cataract and refractive surgery and glaucoma procedures. She is well trained and skilled in complex cataract surgery using the latest technologies including laser cataract surgery. She has vast experience with the currently available intraocular lens implants and counsels patients to help them achieve their desired surgical result. Dr. Gunzburg treats glaucoma and combines glaucoma procedures (lasers and implantable drainage devices) with cataract surgery for the appropriate patients.
In addition, Dr. Gunzburg has a special interest in dry eye disease, understanding and treating the nuances of this potentially frustrating condition. She is an extremely compassionate and patient physician who is known to give her patients the time, information and respect they deserve.
Outside of work, Dr. Gunzburg's interests include practicing yoga, tennis, reading and spending time with her young daughter.