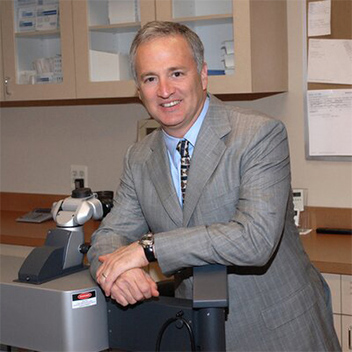 Meet Cary M. Silverman, M.D., our LASIK Eye Surgeon in East Hanover, serving Northern New Jersey. As Medical Director of
EyeCare 20/20
, Cary M. Silverman, M.D. oversees one of the most premier vision care facilities in the tri-state area. EyeCare 20/20 is the first practice in New Jersey to offer treatment using
custom wavefront LASIK
with the
ALLEGRETTO WAVE® laser
. As a LASIK specialist, Dr. Silverman has treated patients from East Hanover, Parsippany, and all throughout North and South Jersey. He has performed thousands of LASIK surgeries over the last decade.
History of Our Practice
Founded by LASIK eye surgeon Cary M. Silverman, M.D., EyeCare 20/20, in East Hanover, began as Parsippany EyeCare Associates in 1986. In a little over 10 years, the practice grew to become a regional eye care center, prompting the name change to EyeCare 20/20. As a highly regarded LASIK surgeon, Dr. Silverman also opened his northern New Jersey offices to serve as a training facility for other ophthalmologists.
VIEW LINKEDIN
Offering LASIK and More
In addition to LASIK and general eye care, Dr. Silverman also specializes in small-incision, no-stitch cataract surgery. He was one of the first ophthalmologists in New Jersey to perform cataract surgery using only topical anesthesia.
Education
Cary M. Silverman, M.D., received his degree in medicine from New Jersey Medical School in 1982. Prior to that, he earned his Bachelor of Arts degree in Biology from Boston University, where he graduated cum laude in 1978.
DOWNLOAD CV
Cary M. Silverman, M.D., in the Media
As a LASIK eye surgeon, Dr. Silverman has been featured prominently in several publications including USA Today, the New York Times, Hemispheres magazine, the Star Ledger, and the Daily Record. Additionally, Dr. Silverman has appeared as a guest ophthalmologist on the Health Network. He has participated in several on-line events, including a webcast on TheHealthNetwork.com and a live chat on ABCNews.com. He has also published several papers on refractive surgery.
Recognition
Cary M. Silverman, M.D., was named a VISX Star Surgeon in recognition of his performance as a refractive surgeon. Each year, this award is given to the highest-volume surgeons throughout the United States. This ranking as a VISX Star Surgeon places Dr. Silverman and EyeCare 20/20 in the top 5 percent of refractive surgeons and centers nationwide.
Dr. Cary M. Silverman, and the entire EyeCare 20/20 team, constantly strive to be at the top of their game and stay knowledgeable and current with the latest practices and research in the field of ophthalmology. In order to do this, they often look to the Journal of Refractive Surgery, when it comes to finding new information and research involving Refractive Surgery. Therefore, it was a true honor when Dr. Silverman was asked to become a guest reviewer for this popular publication. As a reviewer, Dr. Cary M. Silverman helps to ensure that each article is up to date in its findings and applications, and that the article is pertinent to other refractive surgeons in the field of ophthalmology. For over 30 years, this publication has served as one of the leading sources for information and research on refractive surgery, and Dr. Silverman is honored to be a part of the process.
In his spare time, Dr. Cary M. Silverman enjoys photography, mountain biking, skiing, scuba diving, and playing squash. He and his wife Melissa, live in Livingston, New Jersey with their three children – Michael, Jamie, and Arielle.
Watch this short video below featuring Chad Hedrick, Olympic athlete, discussing his LASIK experience.
Contact Our LASIK Eye Surgeon
For unsurpassed vision care, contact EyeCare 20/20 for our LASIK eye surgeon Cary M. Silverman, M.D. We are located in East Hanover, near Parsippany, in northern New Jersey. As an honored and respected ophthalmologist, Dr. Silverman is perhaps the most trusted name in laser vision correction.