Cataracts are one of the most common vision conditions among aging seniors, as they often develop as part of the natural aging process, even amongst those with healthy vision. However, cataracts are more than just an frustrating vision problem. They are also one of the leading causes of blindness in the world, due to the fact that they cloud the normally clear lens of the eye, causing your vision to look like it is fogged or frosty.
Due to the clouded vision that cataracts can cause, as well as a number of other frustrating symptoms, many people with cataracts often seek cataract removal to improve their vision.
Cataract Surgery Procedure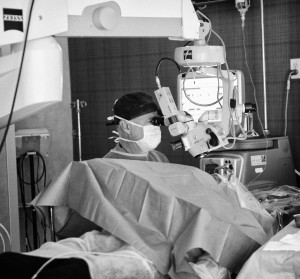 Cataract surgery has evolved significantly since it was first introduced, with several different surgical options now being offered to patients each and every day. One popular type of cataract surgery that our cataract surgeons at EyeCare 20/20 have been using at our New Jersey office for some time is the Phacoemulsification Cataract Surgery Procedure.
During this procedure, Dr. Cary Silverman removes the cataract from the affected lens by creating a minor incision where the cornea and the conjunctiva―a thin membrane covering the outer surface of the eye―meet. He then uses a very small probe (roughly the width of a needle) to emit ultrasound waves to emulsify the cataract and remove the lens fragment. While the cataract is removed during this process, the capsule is mostly left intact, allowing a new lens implant to be placed within the capsule.
While the Phacoemulsification Cataract Surgery Procedure is a much-used treatment that has been popular for years, new safer procedures are now available. Dr. Silverman was the first surgeon in New Jersey to offer HD Cataract surgery, which utilizes a Femto second laser to aid in cataract removal.
Laser Cataract Surgery
EyeCare 20/20 was the first medical office in New Jersey to offer laser cataract surgery. Dr. Silverman is one of a handful of surgeons worldwide who has access to, and is certified on two state of the art femtosecond laser platforms, the Catalys Precision Laser System and the Alcon LenSx Laser. Through this new surgical procedure, Dr. Silverman is now able to perform cataract surgery with more precision and accuracy than ever before, all without having to use blades of any kind―a major improvement for both the cataract surgeons and their patients.
HD Cataract Surgery, using Femtosecond Laser treatment offers the following advantages:
Reduced trauma for patients
Less energy used to break up and remove cataracts as the laser will soften the catarasct prior to its ultrasound removal
Improved accuracy thru laser incisions into both the cornea and cataract itself
Reduced astigmatism through precise incisions to reduce and control.
What does this mean to our patients? Better vision, quicker recovery, and a much safer procedure. To read more about the benefits of laser cataract surgery, visit out HD Cataract Surgery page.
Cataract Surgery Testimonials
Many of our patients at EyeCare 20/20 have seen first-hand the amazing results that cataract surgery can bring to your vision. Listen to some of their testimonials below:
For more information or questions about cataract surgery in New Jersey, schedule a free consultation with EyeCare 20/20. Call us today at (973) 560-1500 or fill out the quick contact form on the left. We will get back to you as soon as possible.