When it comes to undergoing any kind of surgery, many people often question whether or not the cost of the procedure is worth the end results of the surgery. However, when it comes to cataract surgery in particular, is there really any question of whether or not your eyesight is worth the cost?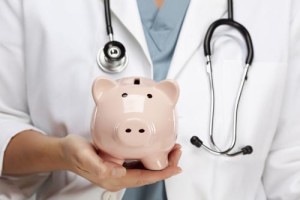 For many people who have spent years suffering from cataracts and have had their vision significantly decreased due to the clouding that occurs with this condition, the cost of cataract surgery may be incomparable to the chance to have your full vision returned. After all, cataracts are one of the leading causes of blindness throughout the world, and if people do not look into treatment in a timely manner, they may risk losing some of their vision permanently. Therefore, the cost of cataract surgery may be a small price to pay to keep your vision.
How Much Does Cataract Surgery Cost?
There are a number of different factors that go into determining the cost of cataract surgery for each individual patient. For instance, the following are all usually taken into account:
The type of procedure used.
The type of intraocular lens (IOL) implanted in your eye.
The area where you live. (The cost of living standards can sometimes help to set the typical price of cataract surgery in some areas)
Fortunately, even if you are looking at a somewhat steep price for cataract surgery in your area, most people have at least some medical coverage for cataract surgery through their health insurance.
Does Medicare Cover Cataract Surgery?
Many health insurance plans, including Medicare, will typically cover any aspects of medical procedures that are considered "medically necessary," even with cataract surgery.
To give you a better example, standard cataract surgery would typically be considered "medically necessary" and covered by insurance. The goal of standard cataract surgery is to improve one's best corrected vision. This means that glasses will usually be required to see clearly up close and maybe for distance as well if there is astigmatism present.
However, if one wishes to see well without glasses following cataract surgery, the added testing and procedures needed to achieve this are not covered by insurance. This include HD Cataract surgery, which uses a Femto Second laser to control astigmatism in patients with mild astigmatism, toric IOL implants for patients with larger amounts of astigmatism, presbyopia-correcting IOLs for those that do not want to use reading glasses for close tasks, and any LASIK procedure that may be used to fine tune visual results. typically provides you with more advanced results, such as vision at multuple distances and no need for eyeglasses.
Alternative Options For Cataract Surgery Costs
While your insurance provider may cover a portion of your cataract surgery costs, some patients still find that they have a large amount of out-of-pocket costs that are preventing them from going through with their procedure. If this is the case for you, you may want to look into the following alternative options:
Crowd-funding: Many new websites are popping up, such as PeelPoints.com, that allow people to register for funding for high-end medical procedures, such as LASIK or Cataract Surgery. Consider asking your friends and family to make donations towards your better vision.
Free cataract surgery organizations: There are some non-profit organizations, such as EyeCare 20/20's own VisionHarvest, that donate free cataract surgery to uninsured patients who are in need. Through this life-changing program, we have helped give the gift of sight to many people in the New Jersey area in need.
If you are looking for more information about cataract surgery costs or are interested in speaking with a surgeon about whether or not this procedure would be right for you, contact EyeCare 20/20 for your free vision consultation today.