We can now offer a full range of services and treatments close to home in Northern New Jersey. It's no longer necessary for those suffering from dry eye, or rosacea-related dry eye, to travel to New York City for an appointment with a Dry Eye Specialist.
Whether you're feeling the effects of Digital Eye Strain from logging too many hours at the computer or have dealt with chronic dry eye and "tried everything" with little luck or relief, our Dry Eye Center is here to help.
Conveniently located within our East Hanover location, it shares EyeCare 20/20's signature mastery of the foremost ophthalmic knowledge.
New Treatment Available for Chronic Dry Eye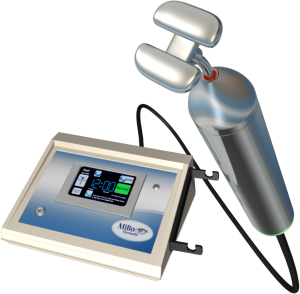 The Accredited Dry Eye Center features the TearLab Osmolarity System along with the latest in chronic dry eye treatment – the MiBoThermoflo therapeutic treatment device.
The MiBoThermoflo has shown 98% effectiveness in relieving dry eye symptoms. It provides a gentle massage to the outer skin of the eyelids through a specialized gel that releases a continuous, controlled stream of heat. The heat is absorbed deep into the tissue and breaks down hardened oils within the tear glands. Over time, the ducts of the tear glands are reconditioned to secrete thinner, clearer oils, which lead to a recuperated and healthier tear film.
Patients who have undergone the treatment describe it as soothing, painless, and potent. The best part is that it combines relief with long-term results. Its also available for use with inflamed styes and chalazions – delivering the comfort of a hot compress in a supportive clinical environment.
Help for Digital Eye Strain
With the pervasive presence of smartphones, tablets, laptops, and ipads, ophthalmologists are noticing an increase in cases of Digital Eye Strain. Studies show that out of those who use computers at work, 50-90% develop symptoms such as eyestrain, redness, irritation, dry or burning eyes, blurred vision, and/or headaches and neck or shoulder pain. Out of those who use computers mostly for personal reasons, 40-60% develop the same symptoms. The good news is that the Dry Eye Center is prepared to address these issues, and the MiBoThermoflo can be a great tool in this process as well.
Personalized Care
In addition to harnessing the power of cutting edge technology, the center will provide patients with a thorough assessment of key causes of their dry eye and work hand in hand to engineer a recovery plan. The recovery plan may include vitamins, supplements, natural remedies, and appropriate medication.
The Dry Eye Center will also carry the finest in lubricating teardrops – "Oasis Tears," which feature the only tears on the market to come in a convenient bottle container while still remaining free of preservatives.
So next time you find yourself fighting dry eye, or any of the above-mentioned related conditions, come pay us a visit and enjoy top notch care without having to venture outside of New Jersey. We can't wait to be of help!