Early on, LASIK surgery was not able to address, entirely, the aspherical shape of the cornea. Though it improved vision, risk of post-procedure complications such as glare, halos, and reduced night vision was one of LASIK's greatest drawbacks.
Benefits of Personalized LASIK Surgery with the WaveLight® Eye-Q System
In custom wavefront LASIK surgery, the risk of occurrence for these and other complications is greatly reduced. In addition, the increased precision of the wavefront technology makes it possible to not only improve how much patients see, but also how well they see. Both lower-order and higher-order aberrations can be treated, improving visual acuity as well as contrast sensitivity and the appearance of fine detail, respectively.
The EyeCare 20/20 team uses the latest LASIK refractive technology – the WaveLight® ALLEGRETTO WAVE® Eye-Q Laser – to provide our patients with a custom and personalized LASIK eye surgery plan. Patients will find that treatment with the WaveLight® system is fast, safe, and precise.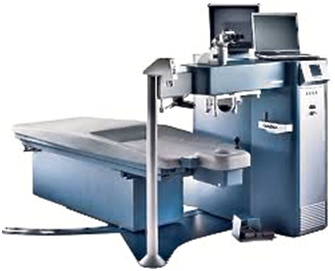 Custom Vision Correction with the WaveLight® ALLEGRETTO WAVE® Eye-Q Laser
Custom wavefront LASIK with the WaveLight® ALLEGRETTO WAVE® Eye-Q Laser utilizes an active eye-tracking system that enables the laser beam to track patients' eye movements during LASIK surgery and provide a customized procedure and outcome for each individual patient. This ensures accurate beam placement and provides patients with a more relaxed experience, as eye movement will not affect the procedure.
WaveLight® refractive technology also makes it possible for Dr. Silverman to correct a larger area of the cornea than is possible using other platforms. Conventional lasers treat a portion of the cornea that is only about six to eight millimeters in diameter, but the WaveLight® ALLEGRETTO WAVE® Eye-Q Laser allows Dr. Silverman to treat areas as wide as nine millimeters. This minimizesthe glare, halos, and other night vision problems that can occur following LASIK surgery, when the pupil expands and becomes larger than the corrected area of the cornea.
What makes WaveLight® refractive technology different is the amount of personalization available, which takes into account a patient's unique visual needs in order to accomplish optimum vision correction results. LASIK eye surgeon Cary M. Silverman M.D. develops a personalized, treatment plan that takes into consideration what works best for each individual patient's eyes, goals, and lifestyle.
See a short video where Kristi talks about her post-op ALLEGRETTO WAVE Laser.
Dr. Silverman and the team at EyeCare20/20 strive to combine a personal touch with some of the most advanced eye-care technologies and treatments available today. Conveniently located in East Hanover, NJ, for over 25 years we've helped hundreds of people improve their eyesight.
Visit our Lasik Testimonials for real reviews from our satisfied patients.
For more information or questions about LASIK schedule a free consultation. Call us today at (973) 560-1500 or fill out the quick contact form on the left. We will get back to you as soon as possible because helping patients is our #1 priority.
Information from the FDA about LASIK: