Everyone's eyes are different. Some people are lucky enough to be born with 20/20 vision. Others seek out procedures like LASIK surgery as a method of vision correction, or they opt to use prescription lenses in order to see images clearly. However, these options are not always appropriate for everyone.
For example, LASIK surgery is not always a suitable option for people who have extreme vision problems, and sometimes glasses and contacts can be downright annoying to deal with each and every day. If this is your case, Refractive Lens Exchange (RLE) may just be the procedure you are looking for to bring your eyes back to 20/20 vision and ditch the lenses once and for all.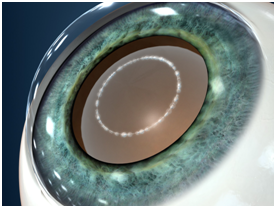 EyeCare 20/20 is thrilled to now be offering refractive lens exchange surgery using the state-of-the-art Catalys Femtosecond laser. With this laser, Dr. Cary M. Silverman and his team are able to perform RLE surgery without having to use blades of any kind―a significant improvement for both patients and surgeons.
About Refractive Lens Exchange (RLE)
Refractive Lens Exchange, sometimes also known as lens replacement surgery or clear lens extraction, is a procedure which helps to correct poor vision in people with presbyopia and farsightedness (hyperopia) or nearsightedness (myopia). This surgery is an option for people who may not able to undergo laser vision correction through LASIK or Phakic IOL surgery, but still want to eliminate their overall dependence on glasses or prescription lenses. The advantage of RLE is that it can correct both distance and near vision together!
Most patients who opt to have refractive lens surgery are typically over the age of 40 and find themselves totally reliant on bifocals or reading glasses in order to go about their day-to-day lives.
How Does The Procedure Work?
The procedure involves replacing your eye's clear natural lens with an artificial intraocular lens so that you can focus better and reduce your refractive error. In fact, the procedure is very similar to that of cataract surgery, except for the fact that instead of replacing a cloudy lens with an IOL, you are replacing a clear lens.
However, when it comes to intraocular lenses, there is no "one size fits all" option for every refractive lens patient. Instead, Dr. Silverman will look at your vision needs and choose one of three IOLs available to replace your natural lens:
Multifocal IOLs – A lens that provides clear vision at different distances.
Monofocal fixed-focus Toric IOLs – Lenses that provide clear vision for distance in those patients 
with a significant amount of astigmatism.
Accommodating IOLs – A type lens that lets you focus at several different distances simply by 
shifting its position in the eye.
The Benefits of Refractive Lens Exchange
There are many benefits of RLE surgery, especially for patients who have very poor near and distance vision. For instance, unlike LASIK surgery, refractive lens exchange can actually correct both distance and close vision. Visual acuity after RLE surgery is often times also significantly better than the outcomes of LASIK and PRK in cases of moderate and high hyperopia.
Many patients who undergo refractive lens exchange find that cataract surgerywill never be needed, as the artificial IOL lens doesn't age, providing excellent visual stability to the lens of the eye.
Some other benefits of refractive lens exchange with the Femotosecond laser include:
Very fast visual recovery
Permanent results
Eliminates the dependence on glasses and contact lenses
Astigmatic correction
Presbyopic correction
Bladeless surgery produces more accurate results
Reduced error and side effects
The Femtosecond Laser
The Catalys® laser is a new FDA market cleared medical device that is used by eye surgeons in order to perform the highest quality possible of vision procedures. The technology was developed by Silicon Valley-based Optimedica Corp. and the technology features a state-of-the-art laser, advanced 3D imaging, and many other innovative features to help bring patients the very best vision quality.
The Catalys Laser System that EyeCare 20/20 uses for refractive lens surgery combines a one-of-a-kind femtosecond laser, advanced 3D Optical Coherence Tomography (OCT) imaging, sophisticated software and a host of other unique features that enable Dr. Silverman to provide his patients a gentle, highly customized procedure with unprecedented precision.
Praise For Refractive Lens Exchange
About Our Surgeons
For unsurpassed vision care, contact EyeCare 20/20 today and speak with our Refractive Lens Exchange Surgeon, Cary M. Silverman,M.D. We are located in East Hanover, near Parsippany, in northern New Jersey. As an honored and respected ophthalmologist, Dr. Silverman is one of the most trusted names in laser vision correction.
Call us today to schedule a refractive lens exchange consultation today with our surgical experts at EyeCare 20/20.